new report commissioned by French President Emmanuel Macron will advise him to pull thousands of African artifacts looted during the colonial era out of French museums and return them to the continent.
French collections house at least 90,000 pieces originating from sub-Saharan Africa with around 70,000 works in Paris' Quai Branly museum alone, according to French historian Bénédicte Savoy and Senegalese writer and academic Felwine Sarr, the co-authors of the report.
They also estimated a further 20,000 objects are held in several port cities throughout the country.
The authors note that African cultural pieces are protected by strict French laws that consider them state public property, even if they were taken illicitly.
The report recommends changing France's policies so that if an artifact's provenance finds it to have been acquired without consent, it can be returned through bilateral agreements struck between France and the country of origin.
Macron is due to receive the report on Friday but a copy was leaked to local media on Wednesday. CNN also obtained a copy of the report.
The French President tasked the pair with preparing the report after a speech in Burkino Faso last year.
He told a packed auditorium at the University of Ouagadougou in November: "Starting today, and within the next five years, I want to see the conditions put in place so as to allow for the temporary or definitive restitution of African cultural heritage to Africa."
In January, he touched upon the issue again in a speech at the Conference of Ambassadors, saying he hoped the moves would help "to build a new intellectual connection between France and Africa."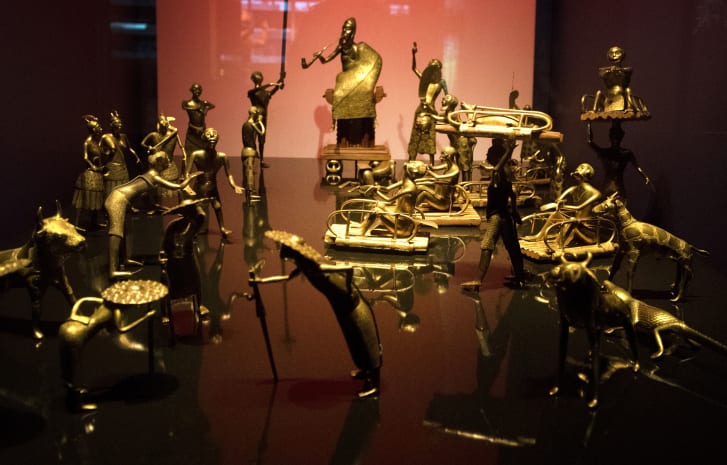 The report suggests a three-phase plan for the process of restitution over the next several years.
The first phase would start with "the formal restitution of several largely symbolic pieces whose return has been requested for a long time by various African nations or communities, so as to show and demonstrate the true wish for restitution on the part of the French state."
The authors then suggest a phase starting from spring 2019 to November 2022 of collaboration through "inventorying, the sharing of digital files and an intensive transcontinental dialogue."
The final phase — which would run indefinitely — would allow African nations to submit restitution claims.
The report says: "The translocations of cultural heritage objects affected by Africa for the benefit of France took place over a long period of time. The process of restitution should not be limited in time."
But it remains to be seen if the proposals will be approved. No doubt museums throughout Europe — many of which hold precious artifacts seized during colonial times — will be scrutinizing what comes next, given it could intensify pressure on them to follow suit.
It has been estimated by UNESCO experts that 90% of Africa's cultural heritage is overseas. In recent years there have been numerous instances of countries calling on their former colonial rulers to return their ancestral treasures.
Gov. Tarita Alarcón Rapu, who was part of a Chilean delegation visiting the British capital, told reporters of their hopes for a loan agreement after a meeting with museum officials.
"We all came here, but we are just the body — England people have our soul. And it is the right time to maybe send us back (the statue) for a while, so our sons can see it as I can see it. You have kept him for 150 years, just give us some months, and we can have it (on Easter Island)," she said.